District town hall is considering the future of online courses – Experience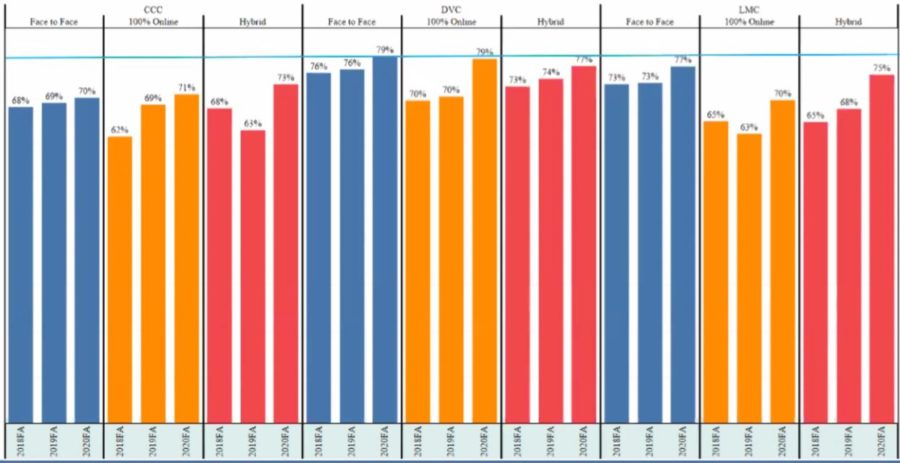 The meeting focused on meeting the needs of students with quality education.
In the wake of the COVID-19 pandemic and the sudden shift to distance online education, the Contra Costa Community College District is committed to helping students and faculty succeed. And although the district has reopened college campuses for some face-to-face classes, it also continues to increase its investment in online courses that began before the pandemic.
At a district-wide online town hall on November 18, faculty and staff discussed how to move forward with more online courses after the pandemic and ensure all students have access effective college education, whether or not they are available for in-person classes. The discussion also focused on professional development opportunities to help faculty learn how to improve the online course experience.
One of the goals of the distance meeting was to brainstorm ideas for the district's next strategic plan for distance education.
"Members of our colleges and college community provided feedback that resulted in the existing district-wide distance education plan," Vice Chancellor Mojdeh Mehzidadeh said.
"
Our task is to begin the process of developing a plan for 4CD that is innovative, inclusive, equitable, accessible and forward thinking to facilitate the success of the online segment of our students' journey.
– Joanna Miller
The mission of the current strategic plan is "to empower students to achieve their educational goals by committing to providing access to innovative, equitable and high quality online learning opportunities and support services for students. students ".
"Our task," said Joanna Miller, district dean of distance education, "is to begin the process of developing a plan for 4CD that is innovative, inclusive, equitable, accessible and forward-thinking to facilitate the success of the online segment of our student journey.
The district began planning for more online education in 2017 and was working on ways to more effectively integrate online classes into college offerings when COVID-19 made it a necessity. Fortunately, much of the plan had already been formulated, so the district was at least prepared in some ways for the mass switch to online courses.
The current project, which will succeed the 2017 plan, needed to be revised and the contribution of more faculty and staff.
This project was "very broad," Mehzidadeh said.
Participants split into working groups during part of the town hall meeting to refine the plan by adding depth to the expanse.
Their work was carried out on the basis of the data presented before the opening of the Zoom sub-committee rooms. Senior Dean of Research and Planning Emma Blackthorne said that across all ethnicities, overall success and retention rates are increasing.
"The entire team and faculty have done a fantastic job of making sure the students perform well," she said.
The district average for overall pass rates for all classes is 74.5%, with the highest average for a specific mode of instruction being hybrid – partially in-person, partially online – with 75, 6%. Other modes analyzed include in-person and fully online, both asynchronous and synchronous.
Los Medanos College's highest success rate was found in face-to-face teaching at 77%, and the lowest was online at 70%.
The pandemic brought face-to-face classes to a screeching halt on March 13, 2020, with so many faculty and staff questioning the impact it had had on the rest of the semester.
"Spring 2020 has been of great interest and many questions regarding Spring 2020," Blackthorne said. "Have we recovered from this and what is it like?" "
Spring 2020 saw an overall decrease in district success rates to 69.2% from pre-pandemic semesters, with CML's success rate of 68%. Yet it is evident that even in the next semester, students were more likely to be successful.
Two semesters after the start of the pandemic, district success rates for spring 2021 are 76.5%, while CML's success rate averaged 78.3%.
The district's recovery has been rather quick considering everything that has happened and will likely continue to grow as a stronger plan is created.
Mehzidadeh explained to city hall that the data presented was "at a glance" as the district has much more data that has yet to be processed, but said the additional data will be used to inform future revisions of the new project. .
Work on the strategic plan will continue in the spring, with a finalized plan due to be presented to 4CD's board of directors on May 11, 2022.
The new strategic plan is designed to ensure that online education improves even further so that more people can pursue a college education, regardless of their schedule.