CB8 chooses district director, fourth in last 3 years | The Riverdale press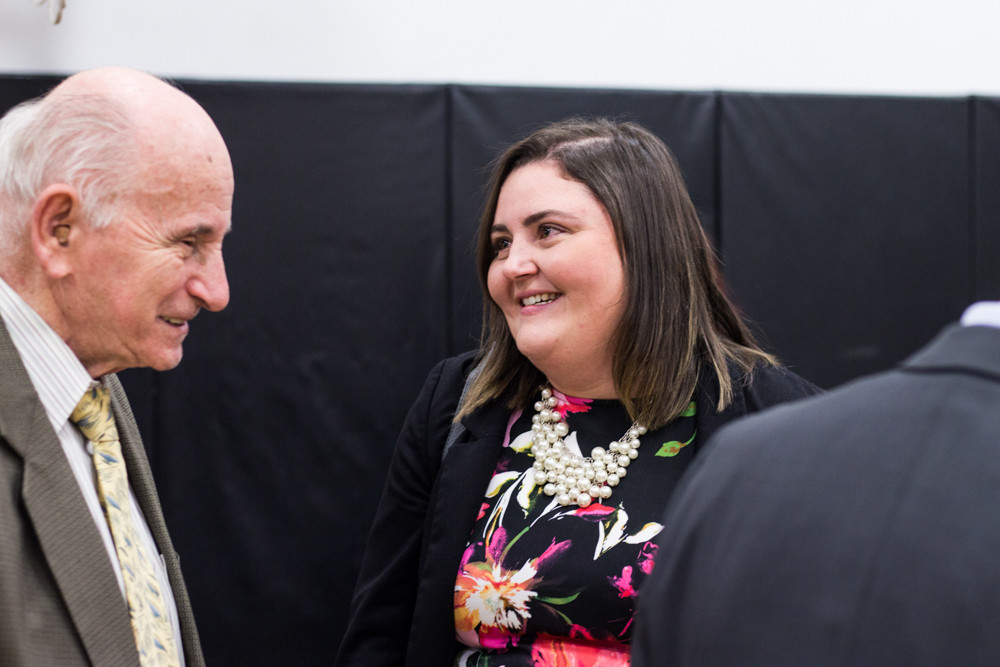 By ZAK KOSTRO
Finally, the search is over.
Community Board 8 selected Ciara Gannon as their new District Director on May 8, a seven-month search to replace Michael Heller, who left last year. A native of Woodlawn and a longtime Bronx resident, Gannon has extensive government experience to land the $ 75,000 a year job.
Gannon has assisted the Town of New Castle Administrator for the past two years, primarily dealing with administrative services. Prior to that, she worked as the Bronx Outreach Coordinator for the City Parks Department, and as a District Representative and Director of Constituent Services for State Senator Jeffrey Klein.
She holds a BA in Political Science and Environmental Studies from Siena College and an MA in Public Administration in Government from Pace University.
"Obviously, this young lady is very experienced," said CB8 president Rosemary Ginty. "Her resume speaks for itself and we are all delighted to be working with her. "
Gannon's past positions have allowed her to work on a range of issues – from sanitation to healthcare, to mortgages, to "anything to do with the elderly," she said.
"I have no doubts that my passion, my work ethic and all my government experience working with various elected officials, and my experience working with the community" will help serve the neighborhoods of CB8, said Gannon. "I've always been a community advocate at Woodlawn, so I think I can do that for Community Board 8."
While Gannon says the experience in New Castle turned out to be invaluable, she wanted to return to the borough where she lives.
"I missed working in the Bronx," Gannon said. Here she has the chance to work with "a lot of cultural institutions (and) big parks".
"I am delighted to get to know this area a little more and to work with different community groups, different merchants, board members and residents," she said.
As for her journey to the District Manager, Gannon said it was word of mouth that pushed her to make an offer.
"A few people outside of Community Board 8 approached me and encouraged me to apply," Gannon said. CB8's own three-member search committee – Martin Wolpoff, Diomarys Escano, and Dan Padernacht – guided Gannon through what she described as a long but straightforward process.
The committee eventually received 84 resumes, interviewing a number of finalists, ultimately recommending Gannon for full board consideration.
"They were deliberate, they were careful and it took them as long as it took to come to that conclusion," Ginty said. "I would not have voted if I did not have confidence in the painstaking work of the selection committee to find and vet all the candidates. "
Gannon's vote, however, seemed to have reminders of a year ago, when the board was ready to vote on hiring Heller. Already barely a quorum, two members – Amy Joy Robateau and the now late David Kornbluh – left just before the vote to "move their cars".
There was at least one high-profile departure ahead of Gannon's vote – planning chairman Charles Moerdler, who did not respond to requests for comment. When asked about the reunion's vote breakdown, Ginty first said The Riverdale press this information was not available because the minutes were not finalized. CB8 then asked a reporter to submit the request in writing.
"This was the most open selection process in Community Board 8 history," Ginty said after the meeting.
Gannon encountered no opposition during the selection process, she said.
All of the board members who voted on May 8 – except Tao Moran, who voted no, and Sergio Villaverde, who abstained – raised their hands in favor of Gannon.
Gannon will likely have her hands full to take on the role of a board that has been missing a district director since last October and has now had four in the past three years.
"The board is best served by an office that is a well-oiled machine," said Padernacht, who was chairman of the board when Heller was hired last year. "It is the District Manager who is responsible for making sure the office operates efficiently and professionally. "
If tests are to come, Gannon is ready to face them head-on.
"Who doesn't like a good challenge? Gannon asked. By his start date of June 11, Gannon wants to meet with various board members, committee chairs and elected officials to deepen some of the pressing issues such as homelessness, healthcare, expanding Hebrew home on the campus of Riverdale's Palisade Avenue, or find the board a new base to hold meetings and daily business.
"I look forward to working with the board on these different issues and whatever comes up," said Gannon. "Community Board 8 is one of the strongest community boards in town, and I look forward to continuing this legacy with the dedicated and dedicated board members, and with the caring residents who attend the meetings. "